All of our suppliers (including ourselves) run extensive Food Control Plans or National Programs aligned to the Food Regulations Act 2015
Our Aim
We aim to make Choice Fruit Products as environmentally sustainable as possible and we continuously look for areas where improvements can be made
Reducing, reusing and recycling waste helps save landfill space by keeping useful materials out
Shipping and packaging
All of our products are shipped in recycled boxes (unless otherwise stated). We recycle everything and only those boxes that are too damaged to reuse end up being recycled at our local recycling depot.
We also use the backing paper from our label rolls as packaging.
Our wooden boxes are filled with wood wool – made of natural fibres and biodegradable. It is made from untreated or heat-treated pine. It has no chemicals and is home compostable – it composts like brown material as it is mainly carbon e.g. wood chips/autumn leaves, so needs the presence of green material such as food scraps (C: N ratio of 25-30).
Our beautiful wooden boxes can be kept forever – please don't throw them away. They are made from strong sustainable wood so can be used for anything – as sewing boxes, for trinkets, for kids colouring books & pencils or toys, for documents, or use for that next gift – the list is endless!
Composting
We compost all of our food scraps or give suitable fruit and vegetable scraps to our chickens who are the ultimate recyclers by giving us eggs.
Where does all our compost go – to the compost bins at home. these bins are closed off and left to compost for about three months, during which time we turn them over every 3-4 weeks. After three months the compost is ready and we empty it into the vegetable garden to replenish the soil! so we can grow many of our fruit and vegetable requirements ourselves, all spray-free.
Our vision is to become 100% compostable or recyclable, and we kindly ask all customers to reuse our packaging whenever possible.
Bulk Buying
Since our business has grown, we are now buying all of our products in larger quantities, mostly 25kg at a time. This means there is only one bag/box etc per ingredient, rather than buying in 1kg, 3kg, or 5kg sizing. This means we have reduced the amount of packaging considerably, we also get our Olive Oil and Cider Vinegar in 25 Litre/35 Litre containers, which are returned when empty for re-filling.
Glass Jars & Bottles
We have started a jar and bottle return system. Every jar or bottle you return (unfortunately we cannot recycle the lid) can be sterilized and re-used again up to 9 times saving a large amount of glass
Please leave the label on the jar so we know it's one of ours!
We attend many local fairs, we will have a box there for your recycled jars and bottles
Otherwise, if you are local to Alicetown in Lower Hutt, please pop your jars and bottles into Forage Merchants of Wellington who are collecting these on our behalf
If in doubt, please email, text, or call us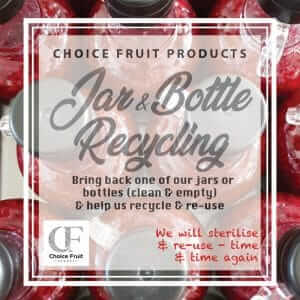 Recycling
We recycle all of our glass and plastic – unfortunately, there is no recycling collection where we live, but we take them to the recycling depot regularly.